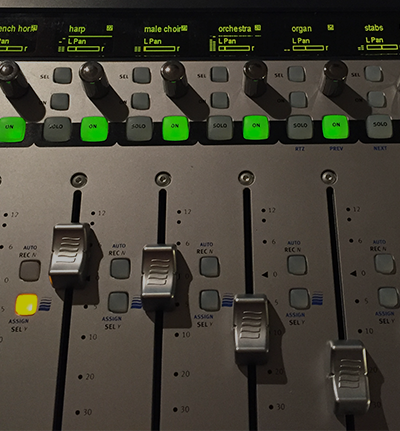 The mainstay of any studio is the recording facility. Vigilante Studio has years of experience recording all types of events, from bands, through comedy acts, to voice overs. The studio is run by Rupert Withers, a producer and sound engineer who has worked in the music industry for 30 years, both in studio recording and live front of house engineering. He has recorded with bands such as Vixen, Therapy?, Statetrooper, COP UK, Natisse, Into The Unknown, Tom Fuller Band, and Sham 69. He has toured with bands such as Vixen, White Lion, Great White, Helloween, WASP, The Glitterati, and Girlschool. He has worked on audio productions for comedians such as Andy Parsons, Tim Key and Noel Fielding.
The studio has two main facilities, the Chalfont St Peter based studio, which houses a full electronic drum kit (with mesh heads for real feel drumming, and a double kick drum pedal), a fully controllable multi monitor system, and Rode vocal microphones; and the mobile studio that allows us to come to you.
We have multiple software plugins to help musicians write music, so can take your music project from initial ideas right through to release if required. We can even source additional musicians for you.
Production and Mix Services
We offer a full music production service utilising both the mobile studio and the Vigilante studio, we can record and mix to the highest standard. We can take on a project at any stage, even if its just for a mix project with material already recorded.
The studio uses Protools software (Protools 11), in addition to top of the range plug ins, including Waves, Amplitube, Ozone, and Antarres autotune. We have a range of microphones, including Rode and Shure.
The studio also houses an old school Alesis electronic drum kit, fully midi capable, and including various pads (Alesis, Simmons etc.), coupled with Superior Drummer 3 software which will make the drums sound like they are recorded on an acoustic kit. Other hardware includes Marshall 9000 preamp, Korg M1 keyboard, and ART preamps.
Duplication and Replication
We are able to offer duplication/replication services for your finished project, whether it's a short run of up to 100 printed CDR's through to a full production run on CD, DVD, vinyl or even cassette and USB.