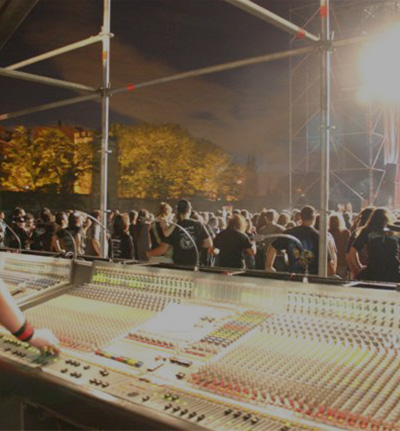 We are able to offer our mobile studio to record bands with up to 28 Tracks.
This means that we are perfectly suited to record live albums (in fact, contact us and ask about our live album package, with which we will record, mix and master your live album). We have a lot of experience in doing this and can work easily with the live engineer on your gig without getting in the way, or placing additional microphones on the stage. We take a multi-track feed either from the stage multi-core, or the front of house desk, whilst placing additional microphones in the venue to record the ambient sound and audience.
This set up also means that we can bring the studio to rehearsal rooms (or even your sitting room) to record bands. We have successfully done this on a number of occasions, to record full albums, or just demos.
We have recorded a number of bands with the mobile Studio, including Crimes of Passion, Tom Fuller Band, therapy? And Weapon (All the drums for the new Weapon studio album were recorded in the drummers sitting room, with a full acoustic drum kit!). We have also recorded stand up comedy concerts.
We have a full range of Shure microphones available for recording, including beta drum mics, and beta 58 vocal mics.
If required we can also arrange for multi camera video shoots, editing and authoring services
We are an endorsee of Tascam for mobile recording.