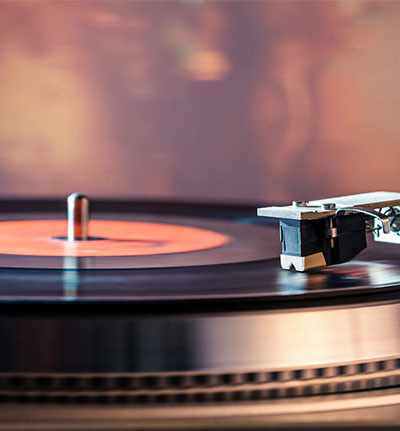 We have the facilities to convert different formats of audio, whether it be turning your vinyl records into CDs or MP3s, or creating digital masters for CD replication.
We have in house facilities to capture audio from Vinyl, Cassette, CD, minidisc or DAT, and convert them to either CD, or to a digital format such as MP3 or M4a. For other formats, please feel free to ask, as we may be able to accommodate them (Some formats, such as old reel to reel tape may need specialist capturing that could involve having to bake tapes, which we can arrange to be done, but do not have the specialist equipment in house). We have technics turntables for vinyl capture.
We can then digitally remaster the captured audio if required, removing unwanted tape hiss, vinyl crackles etc, and possibly making the recordings sound better than before!
We capture all the audio in high quality before any conversions are done, to ensure the best sound. We capture at 96K 24 bit, higher than CD quality which is 44k, 16 bit.
We can also do digital conversions, so if for example you have wav files and need MP3s, no problem. M4a to MP3, windows media to MP3, MP3 back to CD (although this is enlarging a compressed file so the audio quality could possibly be effected). We can convert most, if not all common audio digital formats.
One of the most common professional requirements is to be able to create a DDP for replicators. This is a format required by the replicators to manufacture CDs, allowing a single file to include all the information, tracks, CD text etc to be digitally sent to the manufacturer to ensure 100% accurate master copies.
We have the facilities to offer Basic DVD and Bluray authoring as well. This involves converting video files to a format that can be read by every DVD player, and can include chapters and titles, cover pages and menus etc.